Reva Shayne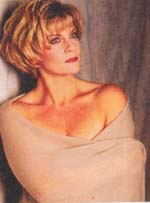 Reva Shayne has been married to all of the Lewis men, thus earning her a place of honor among the Lewis women. Reva has been in love with Josh since they were children in Tulsa, but she had an affair with Billy as a teenager that resulted in Dylan Lewis. Billy's been in love with her all these years, even though he's also been in love with Vanessa for years. Reva was also married to Josh and Billy's father H.B., although she had an affair with Josh during the marriage, and eventually left H.B. for Josh. H.B. didn't hold it against either of them. Reva and Josh finally got married and were happy, until Reva went crazy due to postpartum depression from giving birth to Shayne. She drove her car into the ocean in Florida and was presumed dead. Josh, after years of searching for her, finally came back to Springfield and fell in love with Annie. When Reva appeared alive, Josh was so mad that he married Annie anyway. Finally they couldn't deny their feelings any longer and Josh left Annie. He was back with Reva until Annie left her to crash in an airplane over Florida. Before the plane crash Reva found her long-lost sister Cassie Layne. Josh searched for Reva after the plane crash for about five minutes before he went back to Springfiled to break the news to the family that Reva was dead. Michael cloned Reva and now he and Josh are chasing the teenage clone all over Springfield trying to get her to behave. The real Reva is alive and well and stranded on an island just off the coast of Florida. For a more comprehensive Josh and Reva history, stop by the Josh and Reva homepage.
---
Home
The Lewis Family Photo Album
Last updated 3/29/98. E-mail me with any comments or suggestions.