Harley Davidson Cooper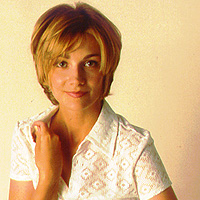 Harley Davidson Cooper, portrayed by Beth Ehlers, arrived in Springfield in the late 80s. She grew up on 5th Street, the wrong side of the Springfield tracks. At the time 5th Street was pretty much like Point Lester is now, but over the years 5th Street has become more respectable. Harley was raised by her grandfather, Pop, her brother Frank Cooper, and her often absent mother, Nadine Cooper. She met Dinah Marler when she and Alan-Michael Spaulding ran into Frank's car as he was rushing a pregnant Harley to the hospital. Dinah and Harley became such good friends that Dinah was with Harley when she handed her baby Daisy, fathered by Dylan Lewis, over to her adoptive parents. When Dinah and Cameron had his father George Stewart arrested on drug charges and left Springfield, Alan-Michael turned to Harley. Of course, now you'd never know that Dinah and Harley were once best friends.

The rest of the Spauldings disapproved of Harley, of course, since she was from a poor family. When she and Alan-Michael got engaged, his brother Phillip tried to seduce her in order to break up the relationship. He got to know Harley in the process, however, and grew to like her. He ended up helping her learn to fit into the Spaulding world and she and Alan-Michael married. They tried to buy Daisy back from her adoptive parents, and when the parents refused Alan-Michael told them that Dylan, who was working as their yardboy, was Daisy's father. Harley was furious and filed for divorce, planning to take him to the cleaners. To win back Harley, Alan-Michael kidnapped Daisy, but Harley returned her and Alan-Michael was forced to serve community service. She slept with Dylan, but was crushed when he told her that he really loved his girlfriend Samantha Marler. Harley and Alan-Michael briefly reconciled when she thought she was pregnant, but when it turned out she wasn't they went through with the divorce.

Harley went to work as Reva and Josh's nanny to get her mind off her divorce and the fact that Dylan had chosen Sam over her. When Reva drove off a bridge in Florida due to post-partum depression, it was Harley who held the family together as Josh broke down. Finally, in a desperate attempt to get Josh to accept Reva's death, Harley threw her clothes out a window and set them on fire. Josh angrily confronted her, which led them to a passionate kiss and sex. Afterwards she left, but he convinced her that he really wanted her and she came back to him. Eventually she quit working for him and went to work for Mindy, who sent her to New York to meet with a fashion designer. Josh flew to NY and proposed, and Harley agreed to marry him and went back to Springfield. When Billy told Josh that he'd spotted Reva on a travel show in Italy, however, Josh left her and took the kids and Sarah to Europe to search for his wife. Once again Harley was alone and heartbroken.

Harley joined the police academy soon after, where she met Detective A.C. Mallet. Their relationship grew as they both worked on the Jean Weatherill murder case, but Mallet suspended her from the police academy after she continued working on the case when he told her not to. She followed Holly and Daniel, a murder suspect, to the Bauer cabin and was locked in the root celler by Daniel, who then took Holly hostage. Mallet rescued Harley, and in her hypothermia-induced delirium she told him she loved him. They finally moved in together after she graduated from the police academy and were very happy until Mallet was injured by a bomb that Alan-Michael's hit man had set to kill Musette, a girl Alan-Michael had hired to come between Frank and Eleni. Mallet found out that he might be sterile as a result of his injuries and tried to leave Harley, but she found out the real reason he was leaving and talked him into staying. They reunited and he asked her to be his wife.

Harley and Mallet went to Washington D.C. to look for her father's name on the Vietnam Memorial. She was upset when she couldn't find his name, and found that Frank Achilles Cooper had returned to the United States in 1977. Nadine lied and said she was told that Buzz was dead, but when he found out that she was married to Billy Lewis, he came back to town. He found out she was faking her pregnancy and blackmailed her. He stuck around town for awhile, flirting with Jenna, but didn't tell his kids who he was. Finally, when Mallet caught Buzz spying on Frank and Eleni's wedding, he forced him to tell Frank and Harley the truth. They didn't want anything to do with their father, and it took them a long time to come around. Harley and Mallet postponed their own wedding to pay for Julie and Dylan's wedding, and when Buzz found out he wanted to lend a hand so he went to Texas and took the money out of a trust fund he'd set up for his other daughter Lucy. When Lucy discovered the money missing, she headed for Springfield to find her father and ran into Alan-Michael.

Meanwhile, Buzz threw a surprise wedding for Harley and Mallet. They went to the Keys for their honeymoon, and while they were there Mallet got a job offer and they decided to move to Florida (GL's way to keep couples together and happy? Kick 'em off the show!). She returned in 1997, separated from Mallet. Right now she is in love with Phillip Spaulding, but with his ex-wife Beth back in town things are looking kind of shaky between them. Personally, I hope Phillip keeps his wits about him and starts treating Harley with the respect she deserves.

Beth and Harley have formed an uneasy alliance to bring down Beth's abusive ex-boyfriend Carl, who has been in Springfield threatening Beth. I'm guessing Carl will be murdered and Frank Cooper will have to round up the usual suspects for a good old-fashioned soap whodunnit. Sounds pretty good to me. For now Harley and Phillip are hanging on by a thread, but who knows what will happen to them if Carl really is murdered.
---
---
Home
Last updated 3/28/98. E-mail me with any comments or suggestions.