Marah Lewis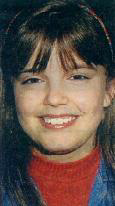 Normally I wouldn't create a whole page for a character like Marah Lewis. After all, she's just a kid, she doesn't get a whole lot of air time, and she was recast with Kimberly Brown and aged a bit when Josh came back to town, making some viewers pretty unhappy. Ashley Peldon, the first Marah, was really cute, but Kimberly's Marah has really started to grow on me, especially since her beautiful speech at H.B.'s funeral. I think her eulogy was the best part of that whole anti-climactic episode. Marah is older now, she's smart, she understands Reva better than anyone except Josh, and she is truly a Lewis in her reverence for family.

Marah was born just before Josh and Reva's wedding at Cross Creek. It was a lovely ceremony, fitting for the childhood sweethearts. She lived happily with her parents until Shayne was born, at which time Reva suffered serious post-partum depression and drove her car off a bridge in Florida. Left motherless, Marah developed a close relationship with her nanny and future step-mother Harley Cooper. She also shared a bond with her grandmother Sarah Shayne. When Josh left Harley and took the kids to Italy to search for Reva, Marah lost yet another mother figure, but she still had her grandmother with her. When the Lewises returned to Springfield and Josh got engaged to Annie, Marah once again fell in love with her new mother. Shayne probably fell even harder, since he had absolutely no memory of their birth mother.

Just as the little family was on their way to wedded bliss, Reva stormed back into their lives in typical Reva fashion. She wanted to have a relationship with her kids, but after Marah told Reva that she loved Annie and wanted Josh and Annie to stay together, Reva backed off. She would do anything for her kids. Then Annie started to lose it, and Marah started to get to know her mother again. After awhile she realized how much her parents still really loved each other and belonged together, and she told Reva she would give their reunion her blessing. She calls Reva "Momma", and she called Annie "Mommy". When Annie totally lost it, the kids became scared of her and now she's just Annie to them. Reva has resumed her place as their one and only mother, and Marah seems to have adjusted nicely. She is a smart little kid, I think she's going to be important to Springfield's future.
---
---
Home
Last updated 12/29/97. E-mail me with comments and suggestions.