Lucy Cooper Spaulding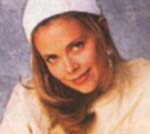 Lucy Cooper, portrayed by Sonia Satra, came to Springfield looking for her father. She was working as a cocktail waitress in Texas when she got fired and decided to take the trust fund her father had set up for her and move to Hollywood, as I recall. When she got to the bank, she found out that her dad had cleaned her out, so she tracked Buzz Cooper to Springfield to find out what he'd done with her money. The first person she met in town was Alan-Michael Spaulding, and it was love at first sight. Well, it was attraction at first sight, anyway.

Lucy was immediately attracted to Alan-Michael, and while she was too proud to admit it, it was pretty obvious to everyone, including him. He dated her, but his heart still belonged to Eleni, and she finally decided she couldn't compete with his ex-wife. They called it quits, but Lucy took a job as his secretary and they decided to be friends. By this time Alan-Michael was over Eleni and just beginning to realize what he'd given up in Lucy. He was far too proud to admit it, however, and therefore stood idly by as she began dating junior executive Brent Lawrence. He made Lucy aware of the fact that he didn't approve of Brent, but she didn't care. At least she didn't admit it.

Just as Lucy was starting to get serious about sleeping with Brent, Alan-Michael finally started pursuing her. She kept telling him it was too late, but of course she didn't mean it. Then the worst thing that could have happened did -- as a virgin, Lucy took her first time seriously, and when she decided not to go through with it he raped her. As though that wasn't bad enough, he became obsessed with her to the point of stalking her. At the same time, Alan-Michael, sweet and clueless as he is, finally declared his love for her. She pushed him away, but he kept at her and finally she told him the whole truth.

Lucy entered therapy to deal with the rape and took an AIDS test, but Brent changed the test results to look like she had HIV. The second test she took was negative, but there were many agonizing moments for Lucy and Alan-Michael. Brent went away for awhile but came back dressed as an incredibly ugly woman named Marion, who moved into the boarding house and befriended Lucy. When Nadine caught on to Marion and started snooping around he killed her, but they didn't find her body for a long time so no one knew she was dead. Finally he kidnapped Lucy and held her hostage at the Lighthouse, but Alan-Michael saved her and they were finally rid of Brent. I think he's in a mental institution somewhere.

Alan-Michael and Lucy got married and he ran Spaulding for awhile longer, but they finally decided they wanted a little cottage on a hill and a quiet family life, so they moved away, leaving Spaulding to Alex, Alan, Amanda and Phillip.
---
---
Home
Last updated 1/1/98. E-mail me with any comments or suggestions.