Annie Dutton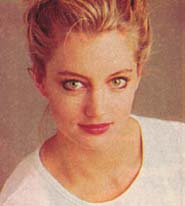 I guess we can't call her Annie Lewis anymore, since she was never actually married to Josh. Annie Dutton has been in Springfield since December 1995, portrayed by Cynthia Watros. Cynthia has recently decided not to renew her contract, so Annie's reign over Springfield will end in February. All TPTB are saying about Annie's departure is that it will be "shocking and unexpected". We'll see. Until a couple of days ago when she was thrown in jail, Annie was cooking up trouble for Hart and Cassie, as well as seeking revenge on Harley by helping Beth woo back Phillip. The pairing of Annie and Dinah as partners in crime is a stroke of genuis, IMO...it's just too bad the writers didn't think of this sooner.

Annie Dutton actually started out as a pretty nice person, believe it or not. She came to Springfield as a nurse working at Cedars. While living in Chicago she was briefly married to Rick Bauer, but her first ex-husband and her drinking problem drove them apart. Rick was characteristically overprotective of his ex-wife as she got involved with Josh Lewis. Not wanting to tell Josh she was an alcoholic, she told herself she could handle it and starting drinking again. She also had some problems with stealing drugs from the hospital for awhile, and finally Lillian called her on it and fired her. Annie went to work for Alan Spaulding as his private physical therapist. At the same time, Reva shot back into their lives like a cannon blast. At first Josh was furious at Reva and didn't even want her back, and then when he did she and Josh agreed that for the children and for Annie they would stay away from each other.

Annie, losing her husband to his true love and her grip on reality to drugs, decided the way to keep Josh was to get pregnant. He didn't want another baby and actually stopped sleeping with her, so she got herself artificially inseminated and told him she was pregnant. It was a good thing for her that she lost the baby or she would have had to explain her 11-month pregnancy to him. Alan took a liking to Annie and decided to help her keep Reva and Josh apart, so he was there for her through her pregnancy and he spent a lot of time telling Josh what a jerk he was for carrying on with Reva behind Annie's back. Josh decided to stay with Annie until the baby was born and then divorce her. However, when she pretended to be Reva's long-lost sister to get Reva to leave Josh alone, that was the last straw. Reva figured it out and confronted her, causing Annie to miscarry the baby. She carried the dead baby inside her for three days (in one of the most gruesome storylines in GL history), then threw herself down the stairs at Amanda's party at the Spaulding mansion and framed Reva for the death of her unborn child. Of course Josh discovered the truth and saved the day just before Reva was sent to prison, but Annie has had it out for her ever since.

Annie's next act of revenge was finding Reva's real sister, Cassie Layne, working at a strip joint in Chicago. She hired Cassie to seduce first Billy then Josh so that Alan could steal Lewis Oil while the brothers were at odds over Cassie. Cassie didn't want to do it, but Annie and Alan had her daughter so she had to. Reva caught her in bed with a drugged Josh before Billy did, however, and the truth came out, including the fact that Reva and Cassie were sisters. Poor Annie, foiled again! Josh regained custody of Cassie's daughter for her, but Annie had really started to bond with the little girl, and she became obsessed with Tammy. She has bigger problems now than Cassie's daughter, however.

At Annie's lavish wedding to Alan Spaulding, her rival Reva finally saw that the truth about Annie finally came out. With Harley and Phillip's help, Reva found out that Annie was married in Chicago, to a poor sap named Eddie Banks (This is another one of those famous GL rewritings of history -- there's no way Annie could have stayed in Chicago after faking her death, and yet she was supposedly married to Rick while he was there and Rick alluded to some abusive ex-husband or something when he first came back. We're just glossing over that little detail, I guess). Eddie helped Annie steal drugs from the hospital where they worked "to pay for her mother's operation", or so she told him. When he got caught she faked her own death so he would take the rap for the drug charge. He went to jail mourning the loss of his beloved Annie, but when he found out from Reva that she was still alive, he signed an affidavit stating the truth about Annie and their still-legal marriage. Dinah nearly ruined things by burning the affidavit, but Cassie cold-cocked her and locked her in a closet, and just at the last minute Eddie showed up and stopped the wedding, telling everyone the truth about Annie. Alan has washed his hands of her and now the only friend she has left is Dinah Marler, and Dinah's a little hung up on her obsession with Hart and Cassie.

Annie is due to be extridited to Ohio to face her drug charge, but she and her lawyer (hired by Dinah) are working on a way to keep her in Springfield. Right now she is cooling her heels in Springfield Jail, but she's got all next month to play out this storyline, so I get the feeling she'll be loose on Springfield for one final, grand scene before Cynthia Watros parts for bigger projects.
---
---
Home
Last updated 1/31/98. E-mail me with any comments or suggestions.