Amanda Spaulding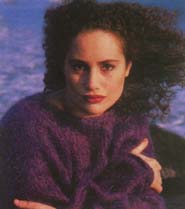 The role of Amanda Spaulding was originated by Kathleen Cullen in 1978. She came to town with her mother Lucille, who was so traumatized by being abused that she tried to keep Amanda an eternal child and taught her never to trust men. With the help of her friend Ben McFarren Amanda was able to overcome her mother's controlling influence. She briefly reconciled with her estranged husband, architect Gordon Middleton, and slept with him for the first time. The next morning, however, she realized it had been a mistake and left him.

Eventually the truth came out that Amanda was not Lucille's biological daughter. Lucille had been in love with Brandon Spaulding, who had convinced Lucille that Amanda was his illegitimate daughter with another woman. Lucille adopted the baby in hopes of growing closer to Brandon, but he admitted to her on his deathbed that Amanda was really the daughter of his son Alan. He wanted Lucille to tell Amanda the truth but she wouldn't for fear of losing her daughter. Only Lucille knew the identity of Amanda's real mother.

At Brandon's will reading a furious Alan discovered that Brandon had left the bulk of his estate to Amanda Wexler. He immediately began to suspect that Amanda was Brandon's illegitimate daughter, while Lucille desperately hoped no one would learn the truth. Around this time Ross Marler starting courting Amanda, hoping to use her money to gain political power. She was in love with Ben, however, and he was in love with Ben's so-to-be-ex-wife Eve. Amanda and Ben were eventually married despite Ross' interference. Eventually Ross and Lucille joined forces to try to break up her daughter's marriage, while at the same time Lucille was investigating Amanda's birth mother, Jane Marie Stafford.

When Ben found out that Amanda had bankrolled his contract with the art gallery he left her in disgust. She found out after he left that she was pregnant with his child. Jennifer Richards came to town to be Lucille's new house manager. She and Amanda grew close and made Lucille insanely jealous. At the same time Alan began searching for Jane Marie, who was in reality Jennifer. Lucille went crazy with her obsession over Amanda's real mother, and she started terrorizing Amanda by calling her house and hanging up all the time. When she sawa picture of Jane Marie and realized it was Jennifer, she freaked out and attacked Jennifer with a letter opener. She fell on the instrument herself and when Amanda rushed in Lucille claimed that Jennifer had tried to kill her. She died at the hospital and Amanda blamed Jennifer. When Ben found out she was pregnant he reunited with his wife.

Jennifer confessed to protect Amanda from the truth, but Mike did some digging around and found out that the Spaulding lawyer had deposited $25,000 in her bank account. Jennifer was retried and this time Alan and her brother Chet were in the courtroom. Seeing them both there, she tearfully confessed the truth, that she was Amanda's mother and Alan was her father. Alan vowed to be a father to Amanda. Meanwhile, Amanda's uncle Chet developed an unhealthy obsession with Amanda, going so far as to try to kill Eve because she was a threat to Amanda's relationship with Ben. On his deathbed he admitted that he just wanted to make her happy.

After Chet died Ross admitted to Amanda that he'd been manipulating her for her money. She lost it and began reverting to the childlike behavior that Lucille had encouraged. Ben came back to Amanda and she overcame her denial with his help. She went to work for Spaulding, much to Vanessa's dismay. Discovering what a ruthless businessman Alan was, Amanda turned against the father she was just growing to love.

Jennifer married opportunist Mark Evans, who quickly seduced Amanda. He coveted Amanda's vast Spaulding wealth, and Amanda was torn between love for her mother and attraction to Mark. Amanda's messed-up personal life caused her to make serious mistakes at Spaulding, and Alan united with Billy Lewis to buy Lewis Oil and oust Amanda from the company altogether. Upset that his brother was dealing with Alan, Josh formed a partnership with Amanda and Ross. Together the three of them formed Los Tres Amigos, or LTA. Ross was involved with Trish Lewis, however, which made business a little uncomfortable. At the same time Ben and Amanda's divorce became final. Meanwhile, Mark Evans decided he was in love with Amanda. She helped him investigate his father's death only to find out he was in cahoots with his father's murderer. Mark was pushed off a cliff and killed trying to protect Amanda from Mona.

A heartbroken Jennifer went to New York and gave birth to Mark's baby, a son named Matthew. Amanda and Ross briefly renewed their relationship, but when he confessed that he preferred Trish's company a heartbroken Amanda moved to California.

When Amanda returned to Springfield she was portrayed by Toby Poser, and she was a lot younger than history would dictate. Thinking that she was Alan Spaulding's daughter, she came to town with the intention of rebuilding her relationship with her father. It turned out, however, the all these years Alex had been hiding the fact that Amanda is really Brandon's daughter, which makes her Alan and Alex's sister. Amanda had spent her entire life seeking the love and approval of Alan, but never getting it. This caused her to turn to men for comfort and love, including her most current paramour, Roger Thorpe. Amanda ran a male escort service in California for a time, where she was known as The Malibu Madame. Matt Reardon worked for her then.

Amanda and Roger were married recently and moved to California to run the Spaulding West Coast division. Their last airdate was March 16th.
---
---
Home
Last updated 3/22/98. E-mail me with any comments and suggestions.