Alexandra Spaulding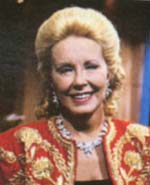 Alexandra Spaulding, pictured above as Beverlee McKinsie but most recently portrayed by the great Marj Dusay, has been the backbone of the Spaulding family for years. Alex has twin sons, Nick and Lujack, by Eric Luvonaczek. The matriarch of the Spaulding clan appeared in Springfield in 1984, playing the adoring sister to Alan. He was thrilled to have her back in the fold, but in reality she was seeking revenge against him for his role in helping their father destroy her relationship with Eric and forcing her to give up her son, Brandon "Lujack" Luvonaczek.

Alex wrought her revenge against Alan by helping Beth and Phillip stay together despite Alan's best efforts to tear them apart. She also revealed Alan's part in trying to get Bradley Raines and his family out of town, and urged Beth to prosecute Bradley for rape and seek counselling. She doted on her nephew Phillip, and later Phillip's adopted brother Alan-Michael. The only of Alan's children she was never that crazy about was Amanda, but that was because Alex was the only family member that knew Amanda was really her sister and not her niece.

Alex found Lujack in Springfield in the 80s, and after much convincing he accepted that she was really his mother. She had no idea that he had a twin out there somewhere (sounds pretty unbelievable to me, but it's a soap so okay), and tried her best to get him to accept the Spauldings. He never accepted their lifestyle, however, and was still pursuing his dream of being a rock star when he was killed. Lujack died while married to Beth Raines Spaulding.

Years later, after several failed relationships, including H.B. Lewis, Hawk Shayne, Fletcher Reade (my favorite), and a disastrous marriage to Roger Thorpe, Mindy Lewis (who broke up her marriage to Roger), found Lujack's twin working for a newspaper in New York. He followed Mindy back to Springfield and that's when Alex saw him. She was thrilled to have another chance at motherhood after Lujack's unfortunate death, but less than pleased to see Nick with Mindy. Unlike his brother, after Nick accepted Alex as his mother he embraced the family business and took a shot at running Spaulding. When it came between he and Mindy, however, he gave it up and went to work at The Journal. After his divorce from Mindy, Nick moved into Fletcher's bachelor pad and eventually married HIV-positive Susan. After Amanda found out that Alex knew all along about Amanda's paternity, she order her out of town and Alex fled to Europe to stay with Nick and Susan.
---
Last updated 1/1/98. E-mail me with any comments or suggestions.